Toronto, OPEN CONCEPT DIORAMA
By oneandoneandone x Reila
Winterstation
"...What defines a room? A sense of place?

A gathering space? defined volume?

All of the above?
DESIGNERS:
Kay, George, Dian and Reila
TITLE:
OPEN CONCEPT DIORAMA
WINTERSTATION: OPEN CONCEPT DIORAMA
In this installation, we suggest a sense of place, where we can gather, come together; create a room

within the context of the site: blur the lines between what is in and what is out and let those that

occupy it be as one with the environment. We start with defining a sense of volume by creating the

framework of a typical 20"x20" room through the use of a welded metal frame. The ceiling, walls

and extends of the room, including the doors and window are made of a metal tube. The floor,

made of wood planks. And within he room, an array of the basic furniture that would occupy a

living room: a sofa, chairs, table, side table and floor lamp. Across at one wall, we build a fireplace

made of metal. The construction safely allows for the visitors to bring wood for a real fire. A real

living room, yet open on all sides to the views, weather and elements of the beach. A sense of

comfort without the constriction of walls. To further suspend belief, the entire stage, painted in hot

pink: create visual interest and make it an anchor statement against the white backdrop of winter.

Use colour to define mood, fun, excitement by day, and let the fireplace make it glow warm and

inviting in the evening. Finished in paint and materials that withstand the trek of an open harsh winter

season, and seeing it as the opportunity for people to get together, congregate, come with friends,

or meet new ones.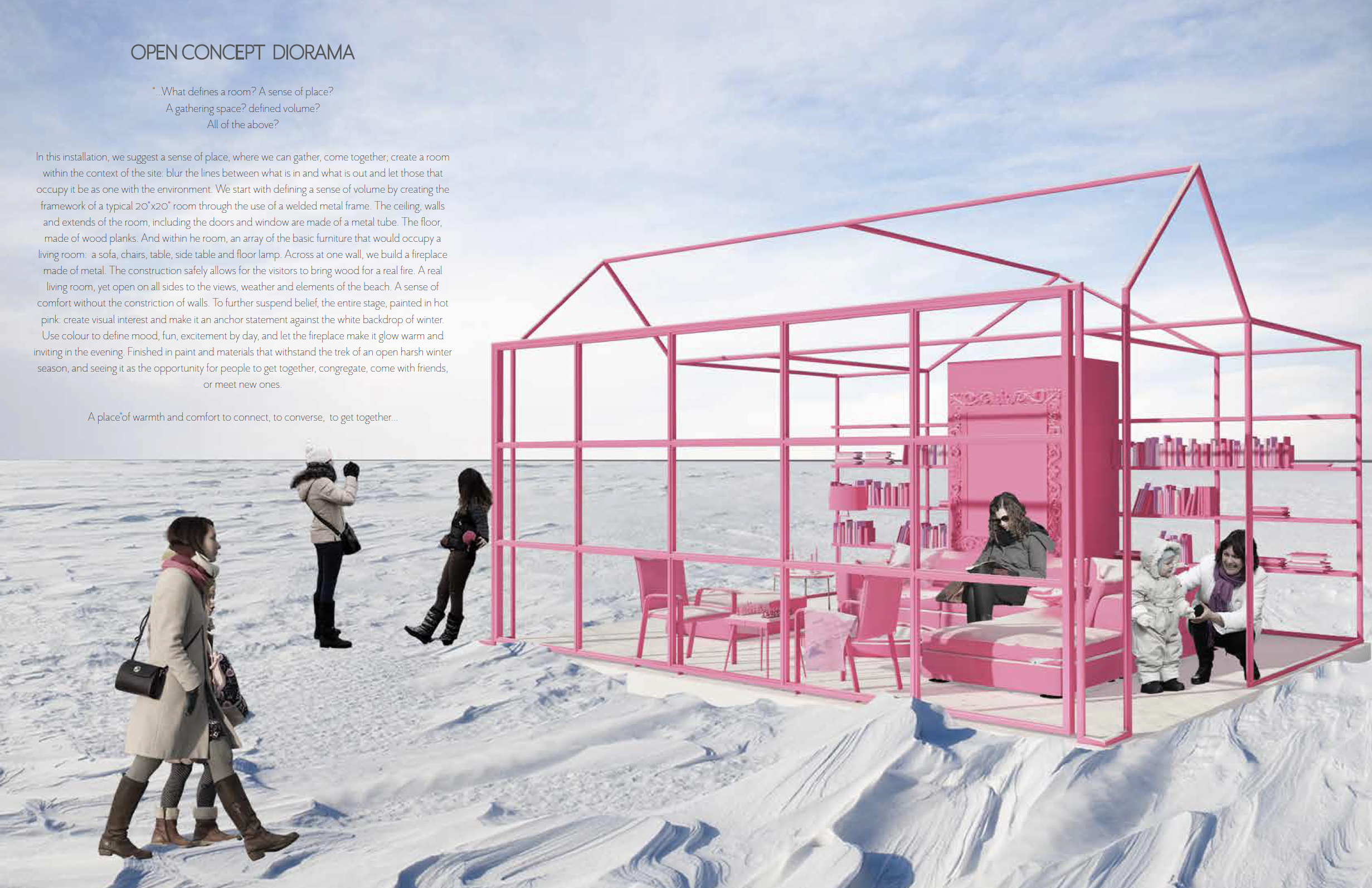 Modeling, rendering, and drawing for OPEN CONCEPT DIORAMA
Date most recently updated:
March 2020